Last week we discussed how positive reviews can generate business, but what happens if you receive negative reviews?
Genuinely negative reviews should be regarded as constructive feedback.
They can confer the following benefits to your business:
Alert you to problems you weren't aware of, so you can fix them.
Give you an opportunity to improve brand sentiment by how you respond.
Provide a search engine optimisation (SEO) bump, since they add legitimacy to your business.
On the flip side, it could be said that they can also ruin your reputation if you do not respond properly, except for one Phibsboro restauranteur here in Ireland, and his ability to flip even negative reviews into huge amounts of coverage.  No PR is bad PR, right?
Except I really don't like his bullying approach to social media, which is why I'm not linking to his white cafe site from here!
Reviews are mainstream
Consulting reviews before a purchase is no longer the domain of just a small minority; with the abundance of review sites out there and consumer review site ratings now making their way into advertising, reviews are mainstream. For example, the consumer review site trustpilot is so popular that companies advertising on radio are including their high ratings to win favour.
So what happens if you get a bad review. What can you do?  Read on to find out how to flip a negative review into an opportunity to show customers you care.
First ask yourself these questions
Where are people are talking about your business? Is it Google, TripAdvisor, Boards.ie, Facebook, or other specialist review sites by vertical?
Are they mainly positive or negative reviews?
If you have negative reviews, are they about service or quality?
Is there a clear pattern for why people are unsatisfied?
If there is a distinct pattern with a particular employee or product, you might need to fix the problem within your business after contacting the customer.
For example, there is a very clear pattern here with Dublin Bus having a time table problem. Being a public transport system, it is unlikely they will respond. If this were a small business, these are the types of patterns you should watch out for in order to avoid more complaints in the future.
What if a review is something trivial?
You still need to respond.
Sometimes people are just unsatisfied – and that's okay. However, it is always good idea to respond to negative reviews even if it something out of your hands.
"45% of consumers say that they're more likely to visit a business if it responds to negative reviews."
However that doesn't mean neglecting good reviews:
"26% of consumers think it's important that a local business responds to its reviews."
Replying to negative comments
In a recent competitor analysis we conducted for a 5 star hotel client, we found a significant number of examples of reviews being left unchecked by one of the hotels in the sample!
Why is this left unchecked and unresponded to on their very visible social media pages? Is it because their social media has been outsourced to an agency who only cares about one way posting?  Good social media management includes community engagement as well as promotion.
When a company responds to a review or asks for one it means that they are taking the time out of their day to reach out to their customers. This creates trust, showing that you care for their opinions and business. Think of it as a doctor following up with a patient or PulaKayak asking if you enjoyed your adventure.
"41% of consumers say that brands replying to reviews makes them believe the company really cares about their customers."
Unfortunately, there can be a fine line between helpful and defensive. Forbes reporter Ryan Erskine writes:
"When it comes to responding to negative reviews, less is more. Three to four sentences is a good rule of thumb.
No matter how unfair a negative review, resist the urge to defend every point and prove your case. It may sound counterintuitive, but long-winded responses can actually legitimize the complaint, as if the review needed defending in the first place."
A bad example
This example comes from PulaKayak, who mastered the art of gaining positive reviews – but needs to work on their response to negativity.
There is something off putting about this response. It is sassy and borderline rude, saying the customer had too high of expectations and that they should not expect anything?
Also, it could have easily been made more concise and apologetic; "We are sorry our cave didn't meet our expectations. In order to respect the swimmers and snorkelers, we did not enter the cave. Please contact us if you would like to discuss this further.
How to minimise disappointment
The business told the unhappy customer to have no expectations, since having expectations can lead to disappointment. Ways to overcome this are to improve product or service descriptions so they are more accurate or include a FAQ's section.
Finding the positive
Receiving a negative review can further describe a product – "72% of B2B buyers say negative reviews give depth and insight into a product."
For vague or risky products, the rare negative review may actually just be a minor defect that another customer is perfectly fine with. Or, they can serve as an authenticator for a brand.If you are shopping online and see reviews that all sound the same and are too positive, it can feel like a paid/fake review. This ruins all credibility for your company, and makes the product or service seem too good to be true.
Another example is the following from Stephanie Vozza:
"In some cases a negative review can actually help you since the viewpoint of the negative review may be appealing to someone with different preferences… one person's negative can be another person's positive."
Negative reviews should also be viewed as an opportunity to show your customer service skills, which is a valuable asset in today's market.
How To Respond – the Apple Way
Apple trains its customer support people to do the following:
Get the person's name and use it
Empathise by repeating back your understanding of the problem
If you don't already have the solution, ask for their permission to go and find it.
This is a proven way to defuse even the most angry customer – and it can buy you time!
Review trackers offers this more generic template, which you can borrow and amend with your own brand voice:
Dear [NAME OF REVIEWER], thanks for sharing your feedback. We're sorry your experience didn't match your expectations. It was an uncommon instance and we'll do better. 
Please feel free to contact us [INSERT CONTACT INFORMATION] with any further comments, concerns, or suggestions you wish to share. We would love to make things right if you give us another chance.
If this is too long winded, just be sure to:
Thank them for writing a review
Address their problems
Offer a solution
If you are responding on social media, respond then offer them the option to DM you to sort out the situation. This is less messy and by being in private it becomes a one on one conversation instead of talking indirectly to a corporation. Be sure to go back to the original post when everything has been sorted and close the issue. It is not a good idea to leave negative issues 'open' on your feed.
Good examples of bad reviews dealt with well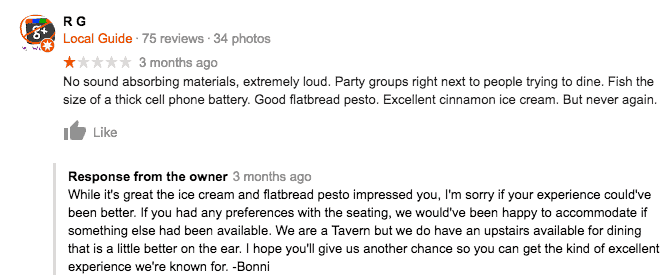 The first example thanked the customer for their compliment to the pesto flatbread which set the tone as kind, unlike PulaKayak earlier. Then they went on to apologize, quickly describing how they could have had a better experience (in a non sassy way). Finally ending with an invitation back.
Dealing with reviews doesn't need to ruin your day. Follow these tips to turn a negative review into a positive experience.
<ahref="https://brightspark-consulting.com/contact-brightspark/">
Do you need help dealing with negative reviews?
Get in touch with us today
Call us on 087 799 8066, or contact us and we'll get back to you asap.
Related Posts